WIN 1 of 30 Washing Machines!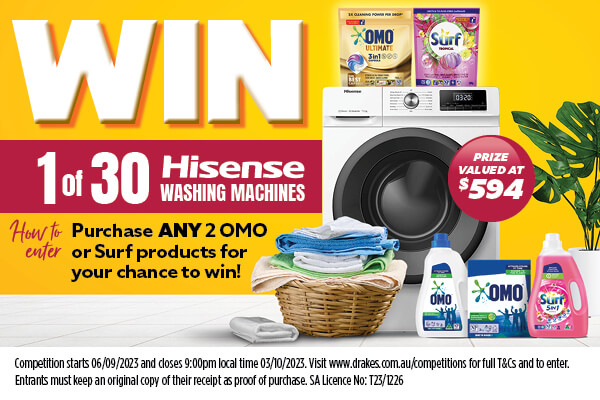 Experience the ultimate laundry upgrade with Surf and Omo! Purchase any two Surf or Omo products and seize the chance to win a cutting-edge washing machine. Simplify your life while restocking top-notch cleaning supplies – it's a win-win! These renowned brands have your back when it comes to effective cleaning, and now they're rewarding your loyalty with a shot at revolutionizing your laundry routine. Embrace the excitement of not only maintaining spotless clothes but also winning a valuable appliance that will redefine convenience. Elevate your shopping experience today with Surf and Omo, where cleanliness meets cutting-edge technology and a fantastic opportunity to bring efficiency and innovation to your home!
Terms and conditions apply, visit www.drakes.com.au/competitions.