Pea Pesto Salad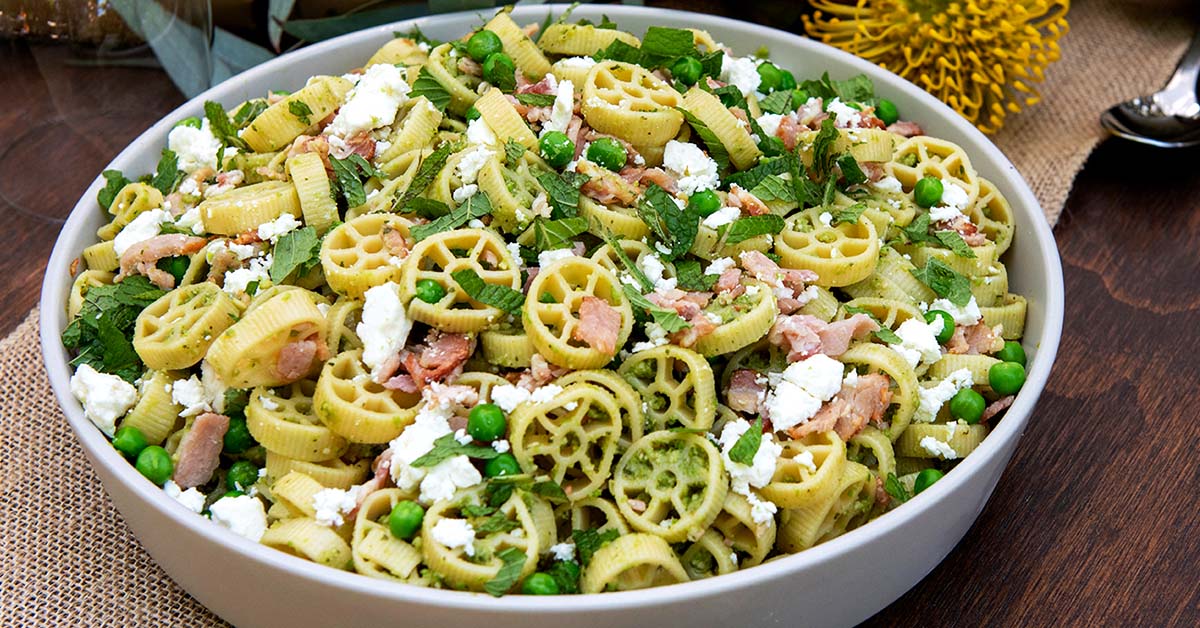 Autumn is here so why not cozy up with this delicious recipe.
Ingredients
For the salad:
500g pack San Remo Wagon Wheels
200g thick smoky bacon, cut into chunky cubes
1 cup fresh podded peas, frozen can be substituted
1 cup of pea & mint pesto (fresh or store bought)
100g goat cheese
Extra virgin olive oil
Salt and pepper
For the fresh pea & mint pesto:
1 1/2 cup of fresh podded peas, frozen can be substituted
1/3 cup fresh mint
1 garlic clove
1/2 cup raw unsalted almonds
1/2 cup Parmesan cheese
1/2 tbsp lemon zest
1 tbsp lemon juice
1/3 cup of extra virgin olive oil
Method

Into a pot of boiling, salted water, add the pasta and cook as per packet directions. Once cooked, strain off the pasta and cool either in the fridge or under cold running water.
In a shallow frying pan, fry the bacon until crispy. Allow to cool.
Make the pea and mint pesto by combining all ingredients in a food processor until smooth and consistent.
In a large bowl, toss the pasta with the pesto, remaining peas and half of the crispy bacon and season with salt and pepper.
Place the pasta on a large platter and sprinkle with the remaining crispy bacon and crumbled goats cheese.
Finish with a drizzle of olive oil and salt and pepper to taste.