Finish Ultimate Plus All in 1
News - New Products
Promotions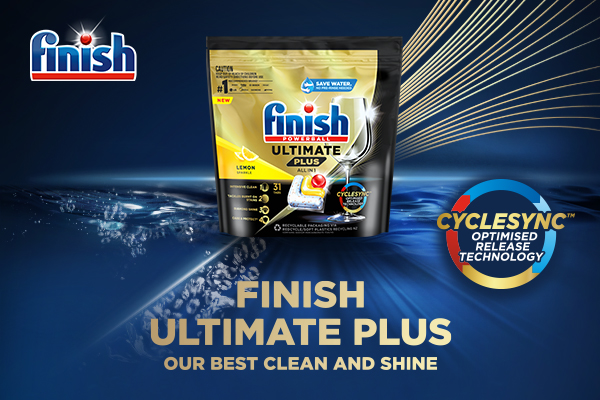 Try new Finish Ultimate Plus All in 1, for our intensive clean in short cycles (1hr, 65°C) and diamond shine 1st time, every time.
It's our first ever tablet with CYCLESYNCTM technology that releases the right ingredient (Enzyme) to act at the right time. Its advanced chemistry is effective at breaking down all types of food residues, even stubborn 24hr burnt-on stains, without pre-rinsing.
The Tabs help protect and care for your glassware and cutlery†, maintaining their shine wash after wash. Our Ultimate Plus performance with 15% less chemical weight than Finish's traditional pressed powder tablets*.
Save time in the kitchen knowing your dishes will come out clean and shiny with Finish Ultimate Plus dishwasher tablets. Wrapper Free, with biodegradable and 100% water-soluble film.
Available now in the cleaning aisle.
†Contains agents known to help protect glasses against corrosion and clouding. This product does not protect from mechanical damages or restore already damaged items.
*Vs. Finish Power All in 1