Chicken Pesto Pasta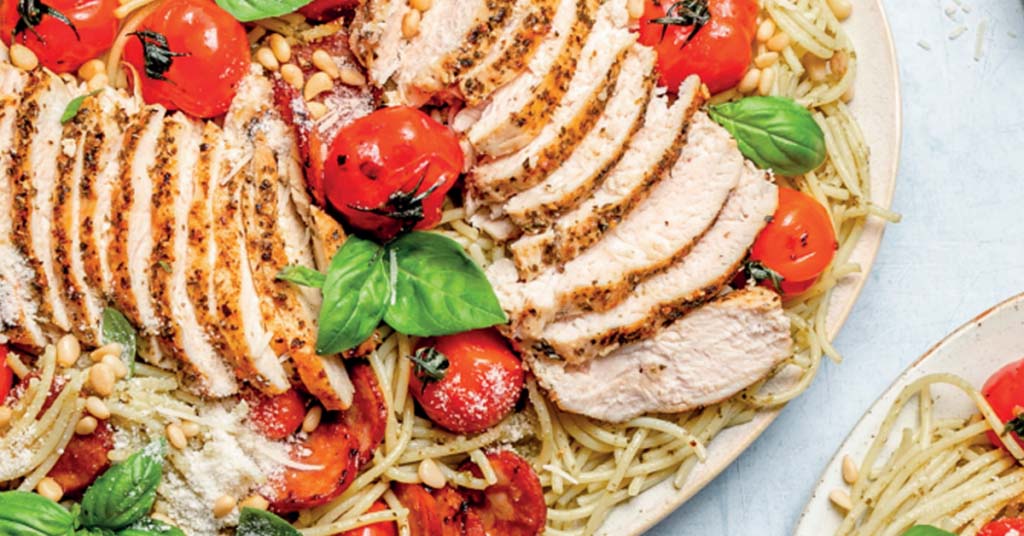 Autumn is here! The perfect time to cozy up with this delicious Chicken Pesto Pasta recipe.
Ingredients
2 x Chicken Breast
500g truss baby tomatoes
1 chorizo, thinly sliced
2 tbs extra virgin olive oil
1 pkt spaghetti pasta
1/2 cup ready-made basil pesto
1/2 teaspoon paprika
1/2 teaspoon ground garlic
1 tbs Italian seasoning
Parmesan cheese, finely grated
Fresh basil
Sea salt and pepper
Optional: handful of toasted pine nuts
Method
Cook the pasta according to the packet instructions. Drain and place into a large serving bowl. Reserve 3 tablespoons of pasta water. Keep warm by covering.
While the pasta cooks, pour a tablespoon of the olive oil into a wide pan and heat over a medium heat. Season the chicken with the Italian seasoning, garlic, paprika, sea salt and pepper and cook both sides of the chicken in the pan for 7 minutes each side or until golden and cooked through. Allow to rest for 5 minutes before slicing into thin strips.
Wipe the pan clean with a few paper towels and add a tablespoon of olive oil. Add in the tomatoes and season with sea salt and pepper. Swirl around the pan and cook for a few minutes or until the skin starts to wrinkle and they release some of their juices. Remove from pan and wipe pan with paper towel.
Now add the slices of the chorizo and fry each side until golden. Remove and set aside.
Pour the pesto and pasta water evenly onto the pasta and mix until evenly coated and then add the chicken, tomatoes and chorizo over the pasta and toss everything together.
Top with fresh basil leaves, finely grated parmesan cheese and pine nuts.