Benefits of Fairy Dishwashing!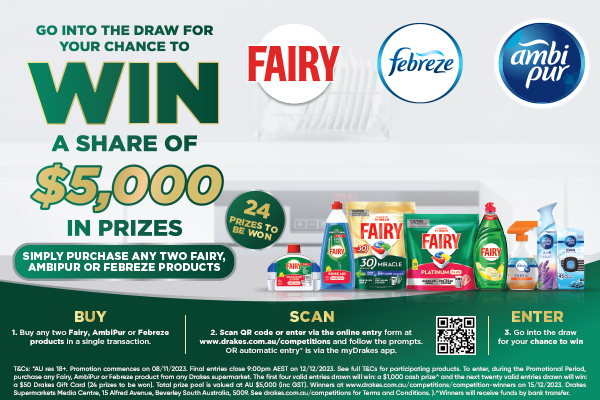 Benefits of Switching to Short Cycle with Fairy Dishwashing!
Want to spend less time on the dishes and more time on this that matter most? Fairy dishwashing is here to help you understand the benefits of switching to short dishwashing cycle.
Time-saving convenience: Short dishwasher cycles, typically lasting between 30 minutes to an hour, offer a significant advantage in today's busy world. However, many Aussies' fear the short cycle, as they have found dishes to not be clean post wash. Fairy's 30 Minute Miracle dishwashing capsules have been specifically designed to perform in a short, cold wash cycle. They allow you to clean a standard load of dishes quickly and efficiently, freeing up valuable time.
Energy and water conservation: By opting for short dishwasher cycles, you contribute to energy and water conservation efforts. These cycles consume less energy and water compared to their lengthier counterparts, which may result in reduced utility bills and a lighter environmental footprint. It's a win-win situation where you save time and resources while still achieving sparkling clean dishes.
Cleaning Tip!
If you are wanting to reap the benefits of a short cycle but are worried about those super hard to clean dishes – think baked on lasange or those dried on oats. We recommend trying Fairy Clean Booster Spray, which proves to be the perfect companion. The formulation works in harmony with your dishwasher, enhancing its cleaning performance to tackle stubborn food residues and stains without having to pre-soak or scrub. Just spray the Clean Booster liberally onto the dish, load your dishwasher as per normal and wash in a short cycle. Embrace these benefits and elevate your dishwashing experience with Fairy dishwashing.
Go into the draw for your chance to WIN a share of $5,000 in prizes with Fairy! Simply purchase any 2 Fairy, Ambipur or Febreeze products in a single transaction and enter here – drakes.com.au/competitions